HBS delivers key services at UEFA EURO 2020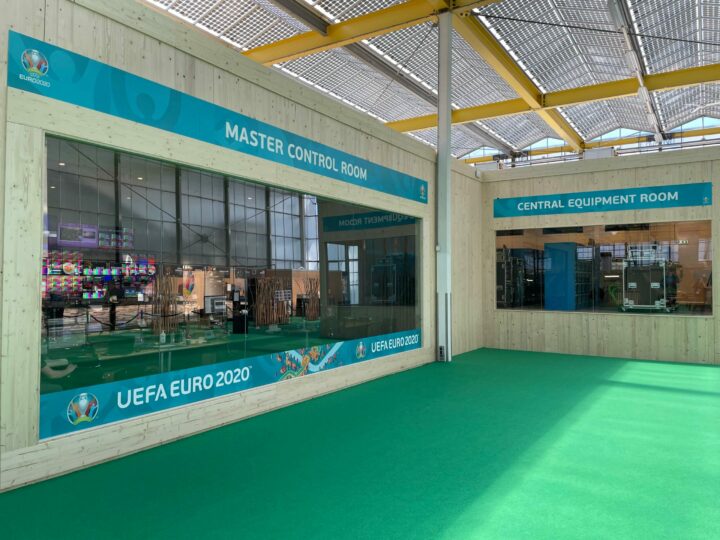 On behalf of tournament organiser UEFA, HBS participated in the delivery of its fifth EURO, delivering IBC construction, broadcast facility operations, management of commentary services on site, as well as the deployment of a new streaming platform for remote-operating commentators.
After a year-long postponement due the COVID-19 pandemic, UEFA EURO 2020 took place between 11 June and 11 July 2021 with matches played across Europe in 11 host-cities.
HBS delivered the design and construction of the IBC for UEFA, located in the Expo Haarlemmermeer in Vijfhuizen, Netherlands. The HBS scope included all temporary, broadcast-related structures which would ensure that the event could be beamed to football fans across the world.
The IBC was designed to limit the impact of its set-up on the environment, with several elements meant to be reused for general construction after the event, and others (such as the bespoke temporary air conditioning installation) using rental components. Meanwhile, the Stage V power generators feeding the IBC operations pollute much less than previous generations, significantly reducing the CO2 footprint and minimising nitrogen emissions.
The company's remit extended beyond IBC construction, as HBS was tasked with managing the host broadcast network within the IBC. For the first time on an event of this scale, the Master Control Room (MCR) and feeds distribution was delivered through a fully redundant IP infrastructure (through a SDN controlled Spine & Leaf network).
This IP set-up presented several compelling advantages such as reduced installation time, increased scalability and flexibility, and via the implementation of the 2022-7 standard a fully redundant design.
Similarly, the Commentary/Audio contribution solution from the venues to the IBC also relied on IP technology, with a similar fully redundant set-up. The overall system consisting of 620 IP Commentary units offered a turnkey solution to broadcasters operating at the venue, the IBC or remotely (via IP-codec turnarounds).
For broadcasters/commentators operating remotely, HBS designed a streaming platform with browser-based and broadcast-based options, all with super low latency and Radio International Sound (RIS). This ensured that the quality of commentary operations was not impacted by the distance between broadcasters' HQs and the competition venue.
EURO 2020 marked the introduction of many broadcast innovations implemented to optimise operations on site, and better answer the needs of broadcasters. HBS is proud to have been able to participate in the delivery of the competition and honoured to be counted as a trusted supplier of UEFA.