2018 Asian Games IBC Officially Opens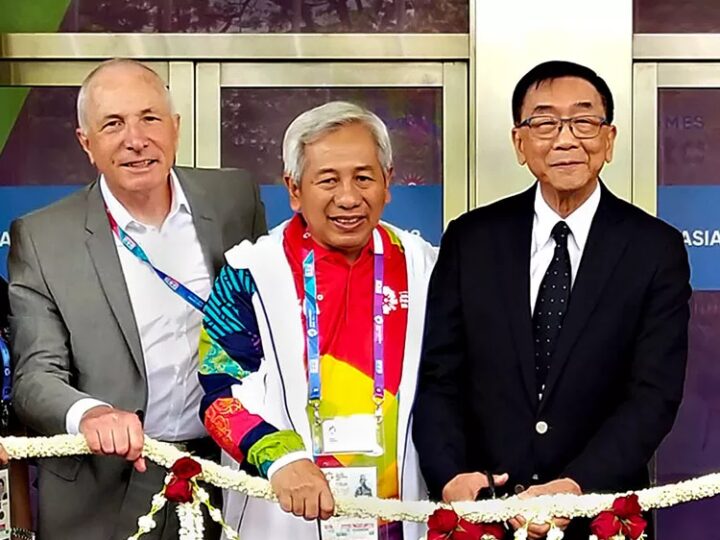 The 18th Asian Games Jakarta Palembang burst into spectacular life last night at the Gelora Bung Karno Stadium in Jakarta.
Opening with a dramatic arrival from Indonesian President Joko Widodo, the breathtaking show, helmed by experienced IGBS director Simon Francis, featured performances from notable musical performers and a creative show taking in Indonesia's birth, vibrant landscape and cultural diversity.
The International Broadcast Centre (IBC) of the 18th Asian Games Jakarta Palembang 2018 has been officially opened, during a ceremony to open the Main Media Centre (MMC) – of which the IBC is a component alongside the Main Press Centre (MPC).
The ribbon-cutting ceremony was carried out by Charles Lo, Chairman of the Olympic Council of Asia (OCA) Media Committee, Wei Jizhong, OCA Honorary Life Vice President, Francis Tellier, CEO of IGBS, Linda Wahyudi, Director of Broadcast of INASGOC, M Buldansyah, Coordinator of Media & Public Relations of INASGOC. Also in attendance were Luc-Antoine Charial and Mike Wilmot, IGBS Project Directors for the event, and senior representatives of several RHBs.
"This will be your home for the next two weeks, and we hope you will be able to work quickly and efficiently to project the Asian Games and the culture and beauty of Indonesia to Asia and the world," said Lo. "We are expecting over 8,000 media to attend the 18th Asian Games in Jakarta and Palembang and we hope you will feel comfortable in the IBC and MPC during your time here in Indonesia and that your daily work will be smooth."
"We are very proud as the Host Broadcaster to be serving Linda and her INASGOC team for the benefit of our broadcast colleagues," stated Tellier. "We have already been in charge of this for other Asian Games so we are glad to bring that experience to this beautiful event. I am confident that it is going to be a tremendous success, and we are delighted to serve INASGOC, the OCA and our broadcast friends."
Located in the Jakarta Convention Center (JCC), the IBC is within the historic Gelora Bung Karno (GBK) sports complex. Built for the 4th edition of the Asian Games in 1962, GBK has been renovated and refurbished for the upcoming Games and is home to numerous competition venues including Football, Aquatics, Basketball, Softball, Baseball, Rugby and several combat sports.
The delegation was treated to a traditional 'Tari Kembang' (Flower Dance) performance after the ribbon-cutting before they undertook a tour of the MPC and IBC, where they visited the studios of KBS and CCTV and had an explanation of the role of IGBS technical facilities such as the Contribution, Distribution and Transmission (CDT) room – the central hub of host broadcast operations for the Games.
The Opening Ceremony will mark the official opening of the Games on 18 August.