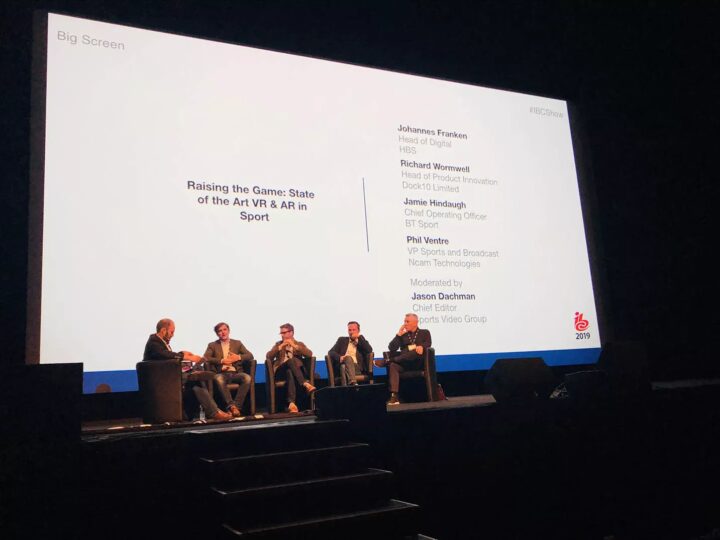 With an 11 person delegation attending the annual broadcast technology conference in Amsterdam, this year's International Broadcasting Convention (IBC) was a big affair for HBS. The company held over the course of the conference a series of meetings with key industry players to discuss current trends in broadcast technology, such as IP-based systems and their associated workflows.
The event kicked off with the SVG Sports Production Summit on Thursday 12 September, where Ekta Hutton, Acting Head of the HBS Broadcast Academy, participated to a panel session discussing the importance of achieving greater diversity in the broadcast industry. "It's all about little steps. Find the level at which you can make a difference and take concrete measures to change the status quo", Ekta commented about her work on training women to become live sports directors.
The SVG Production Summit was capped off with the Outstanding Contribution to European Sports Broadcasting award being presented to HBS founder and former CEO Francis Tellier. With François-Charles Bideaux, Co-Chief Executive of the Euro Media Group, HBS CEO Dan Miodownik lauded the "extraordinary talent of Francis Tellier, who understands that team spirit is what's most important when delivering events".
As IBC officially opened its doors on Friday 13 September, HBS Head of Digital Johannes Franken shared his thoughts about AR and VR integration at a panel alongside experts from BT Sports, dock10 and Ncam Technologies. "AR and VR are like a new toy: you're tempted to use them a lot, but you should remember they are here to complement your broadcast product, not to replace it. It's important to integrate them in a way that is meaningful and editorialised", cautioned Johannes about the overuse of these new technologies in sports productions.
Asked about 5G and remote production, the talk of this year's IBC, HBS Director of Production Stefan Wistuba echoed Johannes' sentiment. Stefan stressed that while these technologies are groundbreaking, they should not be implemented for the sake of it: "The change in technology we've seen in the past years has been tremendous. IP-based transportation systems, for instance, allow for decentralised and remote production operations and we will see them being used more and more", explained Stefan. "But it has to make sense to the event you are covering, and help to develop better, more relevant content. When we master that, we will be able to fully move forward."