World Premiere For The Hammer Series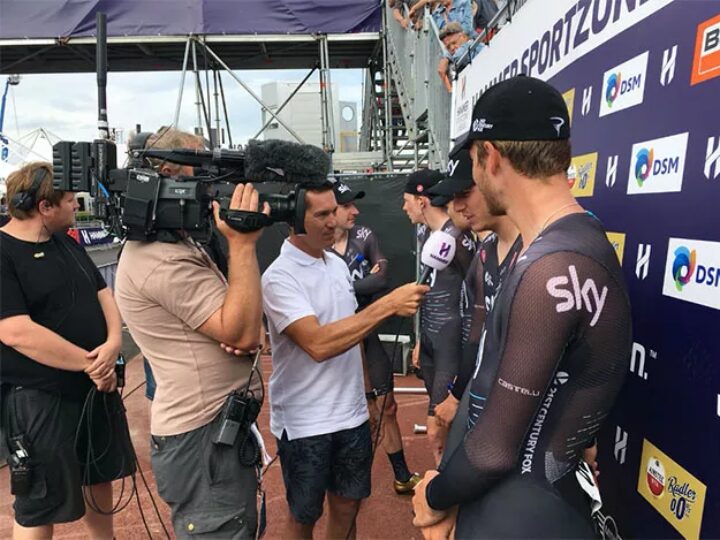 HBS staff travelled to the Dutch province of Limburg last weekend (2-4 June), to operate as Host Broadcaster for the inaugural event of the Hammer Series (Hammer Sportzone Limburg). The already popular event, organised by Velon and Infront, saw the world's top professional cycling race teams battle it out during three races: Climb, Sprint and Chase.
Each team (12 from WorldTour and four from Pro-Continental) fielded a squad of seven riders, with five riders competing per race. The city of Sittard-Geleen hosted the competition to crown "the world's best team", and despite the efforts of recent Giro winner Tom Dumoulin, who was on hand to help his SunWeb team to shine, Team Sky took the title for this first edition.
The Hammer initiative is a revolutionary event based on an innovative format, promoting team spirit rather than individual performance. It was reimagined to bring fans closer to the race with a modern, interactive production concept set up and implemented by HBS. Thanks to the success of the event, next event is already planned in Norway (Stavanger).
For this year's races, a traditional high-end camera coverage including three motorbikes with RF links, one helicopter, a crane and a cable camera system for the sprint and chase race was used.
To make this the most modern coverage in the history of road cycling broadcast, the traditional set-up was complemented and enhanced by three live on-board cameras on bikes and four live cameras placed in the team managers' cars to provide the audience with an insider's look. Fans also benefitted from live biometric data captured on riders.
Besides distributing the race via traditional medium (satellite) to TV broadcasters, this Hammer Series premiere was also live streamed for free via Facebook and YouTube. The livestream was available on the Hammer Series and the competing teams' Facebook pages. On YouTube, the livestream was watchable on the GCN channel, the largest cycling channel in the world (more than one million subscribers).
This comprehensive digital apparatus was being implemented for the first time, at this scale, in the history of cycling and helped bring fans around the world closer to their favourite teams and to experience the action live. The digital coverage of the inaugural event attracted more than two million views online. This represents a huge number for the first staging of a professional cycling event (in comparison, BT Sport's live YouTube stream of the UEFA Champions League Final in 2016 reached three million views).
HBS has been very excited to be able to take part in this inception race and is hopeful that thanks to its cycling expertise and the quality of its providers, it has made a positive impact in cycling production and contributed to establish the Hammer Series not only as a major player on the world circuit, but also as a leader in ground-breaking technical and digital innovation.